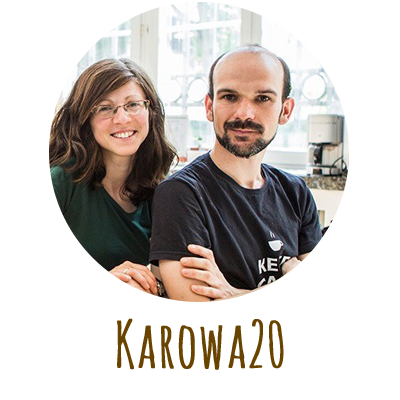 Karowa 20 to miejsce spotkań atrakcyjne dla każdego amatora smacznej kawy, świeżego jedzenia i dobrej atmosfery. To także rodzinne przedsięwzięcie pielęgnowane i rozwijane już od 5 lat. Prowadzone przez małżeństwo Magdalenę i Gabriela, którym pomagają ich dzielni synowie, ledwo co upierzeni i mający jeszcze mleko pod nosem, ale już zapatrzeni w działania rodziców i pomagający tak jak potrafią w prostych czynnościach baristy.

Karową 20 rozwijaliśmy małymi krokami, szukaliśmy nowych pomysłów, wsłuchiwaliśmy się w to, co mówili goście i staraliśmy się wychodzić naprzeciw ich potrzebom. Na przestrzeni lat pojawiły się książki historyczne, gazetnik, gry planszowe, punkt wymiany roślin. Bardzo wielu z Was przypadło do gustu nasze jedzenie. Fenomenem stał się koktajl z pokrzywy!

Pasja Kawy
Parzenie i picie kawy jest dla nas czymś więcej niż tylko sposobem na pobudzenie organizmu. Jest rytuałem. To niezwykle ważny element dnia: kiedy przerywamy wszelkie czynności, by usiąść z rodziną na kanapie i wspólnie delektować się swoim towarzystwem, rozmową i sączeniem aromatycznego naparu. Lubimy to i chcemy się dzielić naszym doświadczenie kawowym.

Pasja Ziół
W zioła to naprawdę się wkręciliśmy! Rośliny towarzyszą nam w domu i w pracy, w doniczce i kubku: suszone do naparu i ciasta, a świeże do sałatki lub koktajlu. Skład mieszanek ziołowych serwowanych w kawiarni opracowujemy sami i zmieniamy je w zależności od sezonu. Promujemy lokalne rośliny, takie jak np. pokrzywa, nagietek czy macierzanka, by zmniejszać łańcuch dostaw i korzystać z właściwości roślin występujących w naszym klimacie. Wykorzystujemy też rośliny występujące w cieplejszych klimatach, takie jak imbir, cynamon czy hibiskus – ze względu na ich właściwości – ale stawiamy na lokalność. Na co dzień sami zbieramy rośliny dziko rosnące i testujemy różne przepisy.

Zaprojektowane dla roztoki